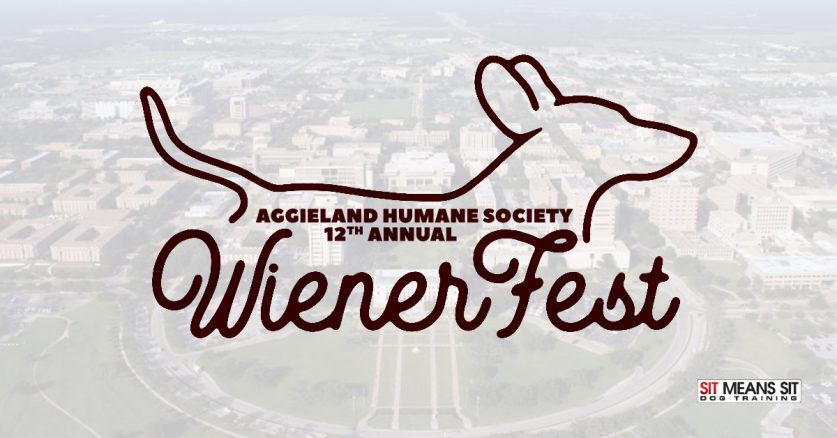 Aggieland Humane Society's Wiener Fest 2018
Posted Oct 11, 2018 in College Station
Looking for something fun to do this upcoming weekend with your furry friend? Look no further than the 12th Annual Aggieland Humane Society's Wiener Fest. Not only do you get to enjoy a fun-filled day with your pup, but you also get to help our your local Humane Society!
Event Details
Date: This year, the Wiener Fest will be Sunday, October 14. However the day before on October 13, there will be a Boot Camp evening where your dog can test out the track and practice before the real deal the next morning. This event is from 5:00 p.m. – 7:00 p.m. on Saturday 10/13.
Location: Wolf Pen Creek Park in College Station, Texas
Schedule:
8:00 a.m.: Registration opens for dog contests/races
10:00 a.m.: Blessing of the pets, and opening of food trucks and vendors
10:00 a.m.: Costume contest registration closes
10:30 a.m.: Costume contest begins
11:00 a.m.: Race registration closes
12:00 p.m.: Races begins, divided into Wiener Races, Senior Wiener Races, Special Olympian Wiener races, and Wanna Be races.
4:00 p.m.: Final heats and awards!
Race Details
There are four different types of races: the Wiener Races, specifically for dachshund breeds, Senior Wiener Races for dachshunds over 10, which is on a shorter track, the Special Olympian Wiener races for any handicapped doggies, and the "Wanna Be" Wiener Races for non-dachshund furry friends. You can register your dog for the Wiener Races here or for the Wanna-Be Race here. It costs $20 to register your pup for the race, and you get a t-shirt.
There are also plenty of rules for the Wiener specific races as well, so be sure to check them all out and follow all instructions.
Race Rules:
No food can be used as a prompt or a lure during the races.
Your dog must have a current Rabies shot. Bring an extra copy of this onsite just in case.
1st & 2nd place dogs from each preliminary race qualify for the finals, which will be held on Sunday afternoon
Costume Contest
There is also a costume contest that you can enter your pup into. There are 4 different categories:
Look‐a‐Like (Owner & Pet)
Couples (Dog Pairs)
Most Creative
Superhero Costume
It costs $20 to register your pup for this as well, and a t-shirt is also included.
What Else to Expect
There is plenty for you, your dog, and anyone else joining to do at Wiener Fest. Whether they're watching all the canine costumes or checking our the vendors, there is plenty to do. There will also be a kids zone, live entertainment, food, and more. If you're interested in volunteering for the event, you can still do so by heading over to this link.
Head out for a day of fun with your favorite furry friend!