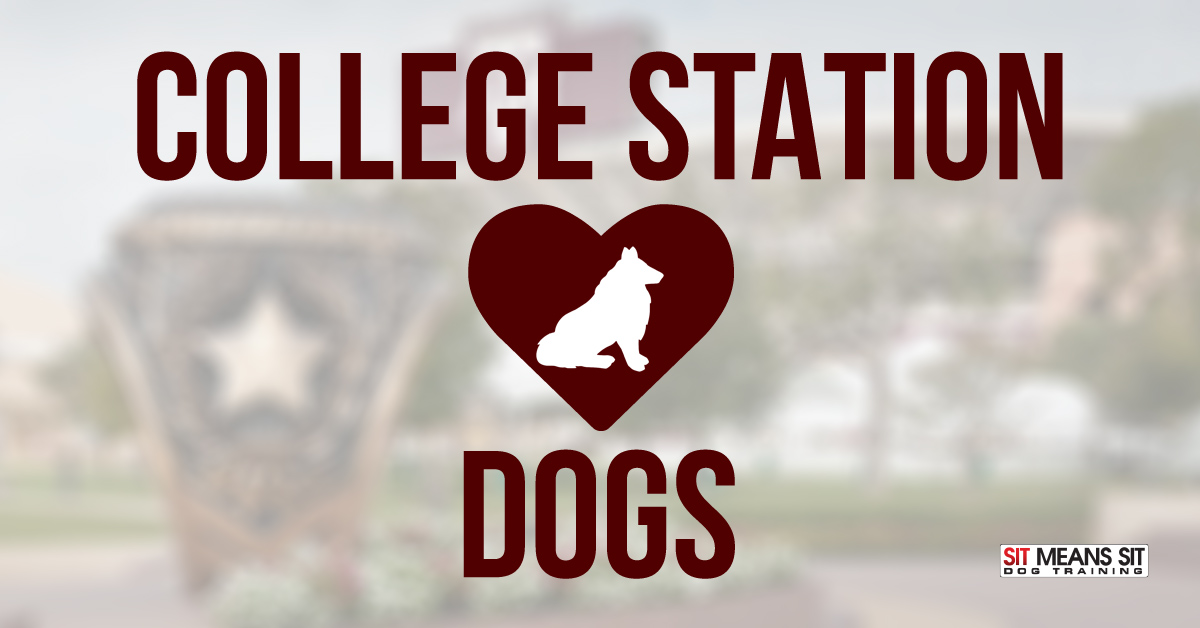 College Station Loves Dogs & the TAMU Mascot Reveille
College Station is a great place to raise a dog. With dog-friendly hotels, hiking trails, restaurants, and more, you and your furry friend will never be bored in this hub! College Station loves dogs so much that they are even welcome in classes and dorms at the city's Texas A&M University…well, one very special dog is allowed these luxuries, at least! Reveille, the university's mascot, has more privileges than most students at Texas A&M University. Read more about why the beloved mascot is so special to College Station and TAMU fans!
History of Reveille
Although many stories have emerged through the years, the most widely accepted tale relates how a group of cadets were on their way back to Texas A&M's campus in January of 1931, when they hit a small black and white dog. They picked up the dog and brought her back to campus to stay with them–clandestinely, since dogs are banned from dorms at Texas A&M–until they could take her to the vet in the morning. The next morning, however, the dog blew her cover since she began barking uncontrollably when a bugler played "Reveille," thus earning her namesake.
Reveille, the Mascot
Texas A&M named Reveille their official mascot after she led the band onto the field during the football season that year. After she died, the university tried out multiple other mascots, including the Tripod, Spot, and Ranger. Eight years after Reveille I passed away, Reveille II, a Shetland Sheepdog donated by a Texas A&M graduate, made her first appearance on campus and reclaimed her crown as university mascot. Known to fans as the First Lady of Aggieland, every Reveille since Reveille II has been a full-blood Rough Collie.
Cadet Ranking
Ever since she was allegedly rescued by cadets, Reveille has been military royalty. After her death, Reveille I was given a formal military funeral at Kyle Field, including a 21-gun salute. Since 1960, Reveille has been cared for by a Mascot Corporal, a sophomore cadet in Company E-2. Reveille lives with the Mascot Corporal, who is chosen within his unit each spring, for the school year. She goes to class with him, out on dates, and even goes home with him for the holidays. He, in turn, escorts her to all of her functions and Aggie engagements. "Miss Rev," as she is known on campus, is actually the highest-ranking member in the Corps of Cadets. She wears five silver diamonds as opposed to the Corps Commander's four. Technically, this means that if Miss Rev falls asleep in a cadet's bed, the cadet must sleep somewhere else since she outranks him! Additionally, if Miss Rev is in class and barks, tradition dictates that the professor end class because she is bored. Talk about a high-class pooch!
Reveille Today
Reveille IX is the current reigning mascot of Texas A&M, and is still just as beloved as Reveille I. Fans still line up to see her, and she even has her own Twitter account with over 30,000 followers! When a Reveille passes away, it makes headlines in College Station, where fans mourn the loss of a beloved presence on campus and the field. All Reveille's receive an official military funeral before being buried in their own special cemetery, complete with a mini scoreboard to watch the Aggies win!
Reveille is a revered icon at Texas A&M and in the city of College Station. Fans treasure her, cadets respect her, and she has become an integral part of the city's rich history of dog appreciation! Gig 'em!