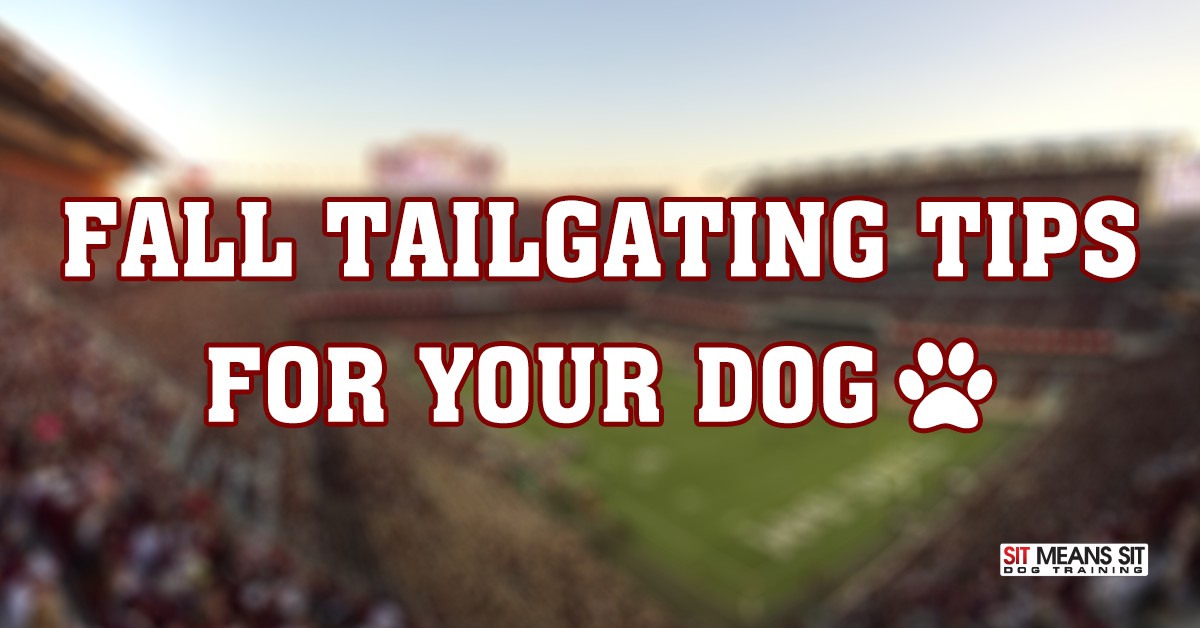 Fall Tailgating Tips for Your Dogs
September and October mean one thing for football fans: awesome tailgates and watching their favorite sports. With the fall weather coming in and your favorite team playing, there's nothing better than enjoying a tailgate with some friends. However, you don't want to leave behind your best friend, of course- your pup! Luckily, most tailgates are outside, meaning your dog is totally welcome to come along for the fun. Here are a few tips to make sure your dog has a great time, as does everyone else at the tailgate.
Check It Out Before Hand
Depending on where you're going to be heading for the day, it may or may not be dog friendly. Call ahead to the sports facility and check to see if your dog is allowed, even in the parking lot. If you're just going to friends home or other private place, give them a call and make sure it's okay to bring your dog. They may have other guests coming that have accommodations to be aware of.
Don't Leave Your Dog Alone
If you're going to bring your dog to the tailgate, don't plan on going to the game. If you are, making sure another member of your family will be staying at the tailgate with your dog or just stay home. Even if your dog is outside on a leash, they can get stressed from the loud noises and break away. Also, as we all know, it is absoutely unacceptable to leave your dog in the car, so this is also not option. If your dog is coming along for the party, plan on being with them the whole time.
There are also so many dangerous items around tailgates (such as grills, food, alcohol, cars, etc.) so be sure you are always looking after your dog in general. You don't want them getting away and having something happen to them.
No (Human) Food or Alcohol
While it's ok to give your dog human foods in your own home, you really won't know what is in every item at a tailgate. Certain foods that are common at tailgates can be very dangerous for dogs, such as onions, garlic, broccoli, chives, chocolate, and spicy foods. Try your best to keep your dog by your side or away from the food so they don't try to get into it. Also tell your friends at the tailgate to avoid giving your dog any food or alcohol.
But Do Bring Doggie Food!
While you don't want your dog eating the human food, you should bring food (and other supplies) for them! Consider making some fun doggie snacks that your dog can enjoy at the tailgate, so they don't feel left out. Also bring plenty of water so they stay hydrated. Depending on the weather you can also bring their blanket or a travel bed for them to rest on comfortably.
Dress Up!
Another way to make the day fun is to dress your dog up in your team's gear! If your dog doesn't like having actual clothes on, an easy way to do this is with a bandana in the color of your team.
Be Respectful and Clean Up
Understand that you and your dog are guests are someone's place or guests at a facility. Take your dog away from the happenings (to dirt/grass areas) to use the bathroom throughout of the day. Make sure you are cleaning up after your dog and yourself! Also keep in mind not everyone loves dogs as much as you, so keep your dog calm and under control.
While every game day is fun, this one will be even more fun with your dog! Have a great weekend!