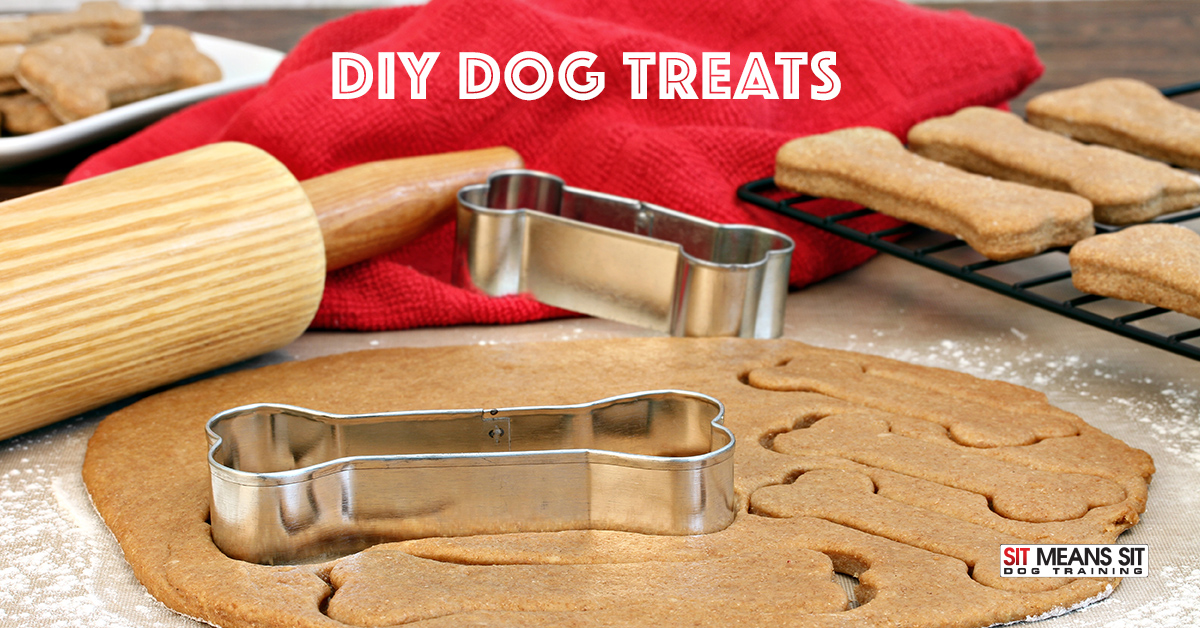 Fun DIY Dog Treats
Making homemade treats for your dog can be fun and creative for you but also healthy for Fido since you know exactly what's going into their snacks. To get you started, we've gathered a couple of quick and straightforward dog treat ideas that are sure to please your precious pup.
Frozen Peanut Butter Yogurt Dog Treats
Frozen peanut butter yogurt treats are the perfect idea for a quick snack to cool your pup down after an energetic and exhausting play session. This recipe is also great because it only requires two ingredients!
Ingredients you'll need include:
32 ounces of vanilla yogurt
1 cup of peanut butter
Directions:
Melt your peanut butter in a safe, microwavable bowl
Then combine the yogurt and melted peanut butter till you have a nice even mixture.
Pour that mixture into cupcake papers.
Place in the freezer until completely frozen.
And then serve to your happy and hungry pup!
Basic Dog Biscuits
These simple dog biscuits are easy to customize to whatever your dog's specific pallet may be.
Ingredients you'll need include:
2 ½ cups of whole wheat flour (you can substitute regular flour or oats if your dog is sensitive to wheat)
1 teaspoon salt (or less)
1 egg
1 teaspoon beef or chicken Bouillon granules (can substitute with beef or chicken broth/stock)
½ a cup of hot water
Optional: Add bacon or chicken broth, eggs, oats, liver powder, wheat germ, shredded cheese, bacon bits, to your dog's preferred taste
Directions:
Preheat your oven to 350 degrees
Dissolve the bouillon or broth/stock in hot water
Add all remaining ingredients.
Knead the dough until it forms a ball (this takes approximately 3 minutes)
Roll dough until it's about ½ inches thick
Cut into slices or bone shapes (or any other cookie cutter to make shapes with)
Place the dough pieces on a lightly greased cookie sheet.
Cook for approximately 30 minutes
Let cool and then feed to Fido!
Healthy Pumpkin Balls for your Pooch
Your furry friend will not only love the taste of these yummy treats, but they'll also be receiving plenty of fiber, vitamin A, beta-carotene, potassium, and iron as well!
Ingredients you'll need include:
1/2 cup of canned pumpkin
4 tablespoons of molasses
4 tablespoons of water
2 tablespoons of vegetable oil
2 cups of whole wheat flour
¼ teaspoon of baking soda
¼ teaspoon of baking powder
Optional: 1 teaspoon cinnamon 
Directions:
Preheat your oven to 350 degrees
Mix pumpkin, molasses, vegetable oil, and water in a bowl
Once you've successfully mixed those items together, add the whole wheat flour, baking soda, baking powder, and cinnamon until dough softens.
Scoop out small spoonfuls of dough and roll them into balls on your hands (wet hands work best)
Set the balls onto a lightly greased cookie sheet and flatten with a fork
Bake approximately 25 minutes until dough is hardened
Once these flavorful treats are out of the oven, allow them time to cool and then spoil your pup with your homemade goodies!
Apple Crunch Pupcakes
This snack is the fruitiest of them all, so if your dog has a sweet tooth, they'll be sure to adore these treats.
Ingredients
2 ¾ cups of water
¼ cup of unsweetened applesauce
2 tablespoons of honey
1/8 tablespoon of vanilla extract
1 medium egg
4 cups of whole wheat flour
1 cup of unsweetened dried apple chips
1 tablespoon of  baking powder
Directions
Preheat your oven to 350 degrees
Mix water, applesauce, honey, egg, and vanilla together in a bowl until thoroughly combined
Add remaining ingredients and mix until well blended.
Pour into lightly greased muffin pans.
Bake for about 1 hour and 15 minutes
Let cool and then indulge your canine in their very own sweet treat!
When making these fun treats always remember your dog's specific allergies, so you don't accidentally add them in. If you're trying out new flavors, let your dog taste a small amount of that ingredient to see if they react to it positively. If everything seems okay, make those fun treats, but always keep a close eye on your furry friend, to ensure he's happy and healthy especially after trying new things!