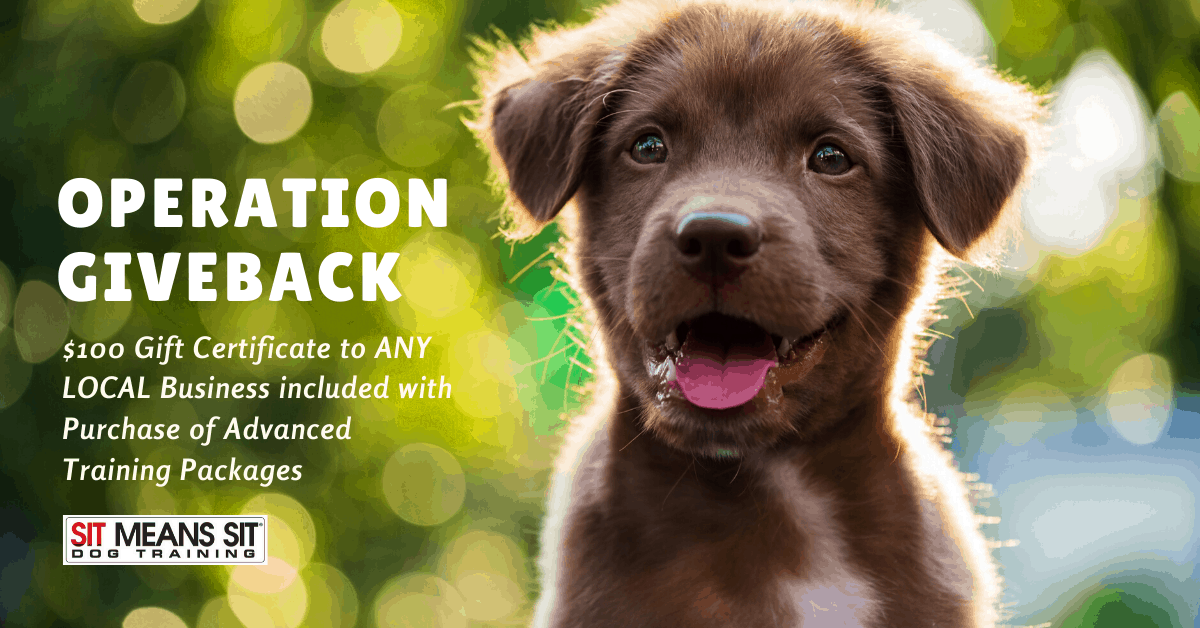 Operation Giveback
The COVID-19 Pandemic affected us all and while we're not out of the woods yet, there is a light at the end of the tunnel.  Now the work begins.  We'll be getting back to dog training as soon as possible.    We all have a part to play as we put America back to work and get back to living our best lives.  Operation Giveback is our way of giving back to the local businesses that make College Station such a vibrant community.  We're all in this together and the only way we can get through this, is together.
Dog Training + Gift Certificate to Local Businesses = Operation Giveback
Help us get America back to work! For a limited time we're giving away $100 gift certificates to other local businesses with the purchase of one of our advanced training packages.  All you have to do sign-up for dog training, tell us where you'd like your gift certificate, and we'll give you the certificate when you pup graduates from the training!  You can pick any company in the area, but we encourage you to support local small businesses (especially restaurants) as much as possible!
That's right – you purchase an advanced training package from us and we'll give you a $100 gift certificate to a local business of your choice.  It's that simple.
You may be asking yourself, why would we be doing something like this?
The answer is surprisingly simple.  College Station is our home and we believe it's our duty to help others get back on their feet.  Our mission has always been about more than being the best dog trainers in College Station.  At its core, our mission is to help improve people's lives.  In normal times we do this through our award-winning training programs that result in happy, confident and obedient dogs.  Unfortunately, these are not normal times, but our mission to improve lives has not changed.  We will do everything in our power not only to get back to normal, but to get back to thriving.
Please join us as we do our part to get America back on its feet and moving forward.