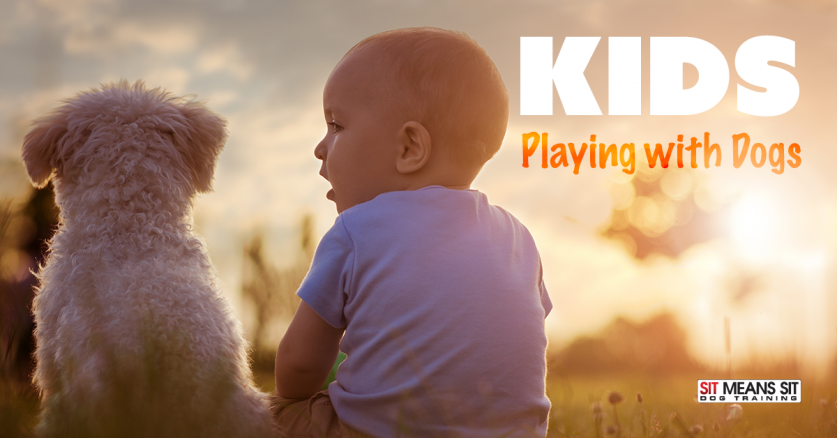 Teaching Kids How to Act Around Dogs
Posted Jul 28, 2017 in Tips
Having a dog in the home with your children is an amazing experience. Your child will learn empathy and the responsibility of taking care of a pet. On the other hand, there are some safety concerns every parent may have. We all know the basics, such as never leaving your child alone with your dog, but have you taken the time to teach your child the deeper skills necessary in understanding how to interact with dogs? Here are some tips on how to teach your kids the correct way to interact with your own dog or just any other dog they meet!
Teaching How to Approach
You should teach your child the steps to approaching a new dog they do not know.
Never approach a dog without asking an adult (most likely you) and then also the dog's owner. Explain to your child than an owner may say no because their dog doesn't react well to certain touches and it is to keep everyone safe.
Do not approach a dog that seems stressed, afraid, or anxious. Teach them how to read the body language of a dog so they can tell.
Once you get permission, do not run toward a dog. Slowly approach.
Never approach a dog when they are eating, chewing on a toy, or sleeping.
How To Interact
After you teach your child how get permission and when it is ok to approach, teach them what to do. Explain that they should have the dog come to them instead of invading a dog's space. Show them how to hold out their hand so the dog can sniff them and then come near. Explain that if the dog is smaller, they should bend or stoop so they are at the dog's level. They can pet or gently scratch the dog's chin or chest. Explain to your child how to pet in the direction of the fur and the proper way to scratch. They should also know to avoid putting their hands over the face and head.
Things to Avoid
Read a dog's body language- if they back away or growl, stop petting
Never pull/grab the tail, ears, or feet
Do not hug new dogs since this can make them uncomfortable and lead to biting
Avoid invading the dog's space, specifically their face area
Do not run to or from dogs
Avoid yelling and screaming around dogs, which can scare or irritate some dogs
When a Dog Approaches You
So now that your child knows how to interact with the dogs they meet, teach them what to do if they are alone and they see a dog alone. If your child is comfortable around dogs, they might try to approach a dog that is stray or not on a leash. Explain to your child they should stand still, not make eye contact, and use a deep voice to say "No!" without actually yelling if the dog does approach. Tell them they should look to get help immediately after the dog stops approaching, but do not run away. Just back away slowly.
While nothing can avoid pure accidents, giving your children the knowledge to be safe around dogs is very important. Good luck and stay safe!