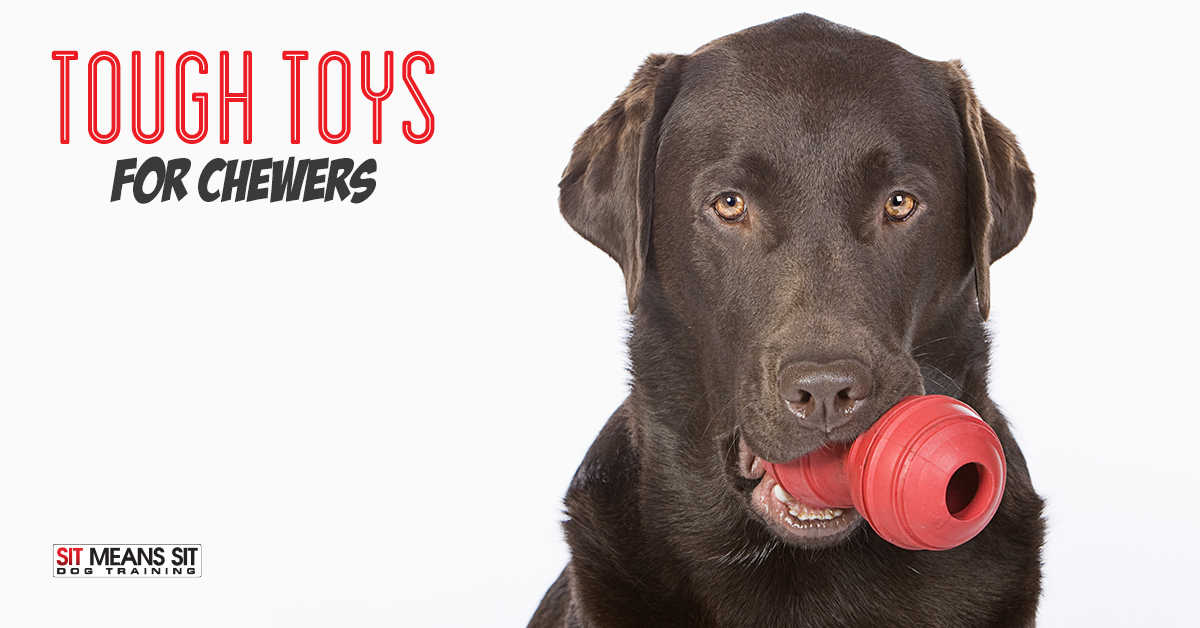 Tough Toys for Dogs that Chew
Dogs love their toys and we love to spoil them! It is always so fun running into a store to grab your pup a new toy. But sometimes it can be pretty frustrating to have your dog chew up that toy in less than a week. Some dogs just love to chew. Whether you're trying to get your dog to stop destructively chewing shoes, couches, and anything in sight or you're just trying to help your dog keep a toy intact for more than a few days, we've got a solution. Durable, tough toys are what is needed for a dog that's a tough chewer. Some intense chewing dogs will tear right through a toy that is labeled "indestructible." Here are some toys we know can withstand your furry friend's chewing and will keep them entertained for hours!
KONG Extreme Dog Toy
There are obviously a wide variety of KONG toys on the market. Maybe you've tried a few, but your dog just destroys them. Luckily, there is a KONG toy that is ready to stand up to your pup. The KONG Extreme is made from the most durable rubber that is made for dogs like yours. It still has the same unpredictable bounce to it that keeps your dog on their toes. It is perfect for filling with treats or sprays, and can be frozen for more play. This toy ranges in 5 different sizes to find the perfect fit for your dog. KONGs are great for keeping your dog entertained while your gone, challenging their mind, or reducing separation anxiety. They range anywhere from $5 to $21 depending on the size!
GoughNuts Ring Dog Toy
Another great toy that is guaranteed to handle your pup and is made for tough chewing is the GoughNuts Ring. This toy comes in three different sizes and 4 different colors, so you can decide what suits your dog's personality and size. This doughnut shaped, ring toy is made out of a natural rubber than uses engineered carbon reinforcement to make it even more durable. What is special about the GoughNut is that it has a two layer design, the outer ring is whatever color of the toy and the inner layer is red. When you see the red, it is a safety warning to tell you to take away the toy. It floats and bounces, making it great for playing in the yard or the water. We know this one will stand up to your tough chewer. They range anywhere from $16 to $25.
Nuts for Knots Heavy Duty Rope
If you're looking for something that you and your dog can do together that will also stand up to their chewing, the Nuts for Knots Heavy Duty Rope toy is the perfect choice. It is great for interactive play between you and your furry friend that will help your bond, but can also be fun for them to play with alone. It is available it different sizes, but also fun colors that they randomly choose when you order your toy. The shape of the toy is a knotted ball with a tug loop at the end. It is extra-durable so it will keep your dog happy, playing, and engaged for hours. Prices are from $5-$15.
Hopefully now your dog has some toys that can stand up to their chews. Let us know what your pup's favorite toy is! We hope they have some fun! Good luck!