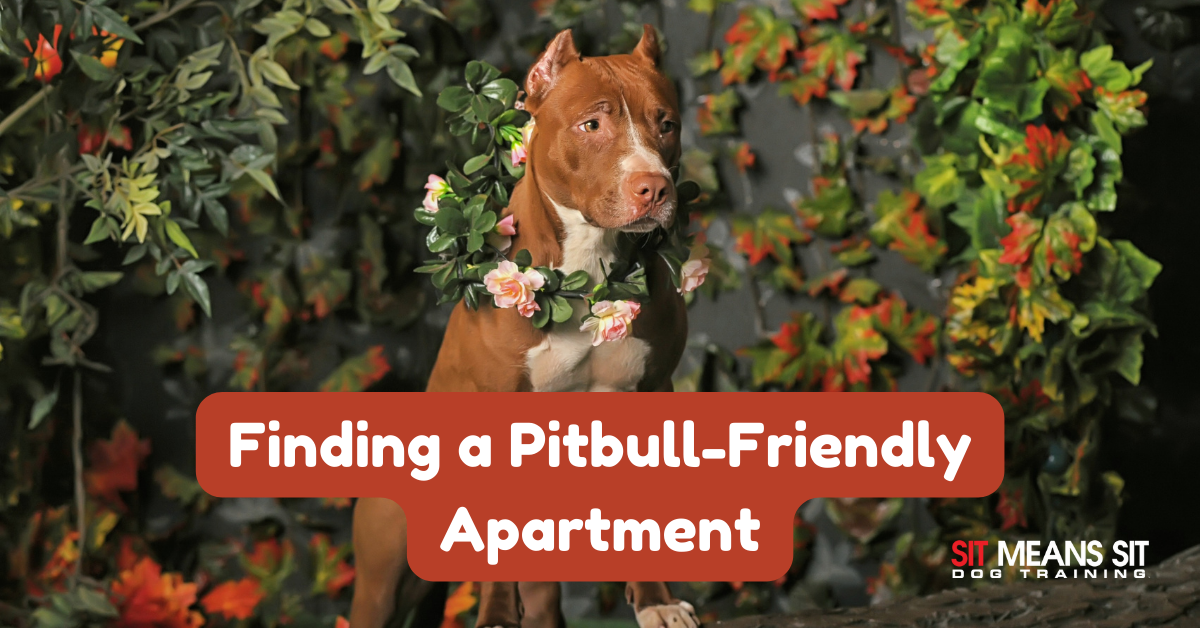 A Guide to Finding a Pit Bull-Friendly Apartment
As a Pit Bull dog owner, you know how sweet, kind, and charismatic your pooch is. But, unfortunately, some folks just don't trust Pit Bulls, and this may affect how you are able to find an apartment. While there are tons of dog-friendly apartments out there, not all of them are Pit Bull friendly, which can make the hunt much more difficult than it should be. Here's a guide of the top tips to help you in your hunt for an apartment that accepts Pit Bulls!
1. Apartment hunting takes time.
Allow yourself a grace period of about 2-3 months to find the perfect apartment for you and Fido, especially if you have to gather paperwork for your pooch!
2. Don't tiptoe around having a Pit Bull.
Some renters will try and hide the fact that they have a Pit Bull from landlords. This will only cause more problems and stress as dishonestly may lead to eviction! Be upfront about your dog's breed on the lease to avoid any surprises down the line.
3. Ask for advice when needed.
Don't be afraid to reach out to fellow local Pit owners as they may have some token words for you! These dog parents have likely been around the block with renting with a Pit Bull so they'll have lots of experience and advice to dish out. Try joining a support Facebook group!
4. Use a broker.
Using a realtor broker can ease a lot of stress and confusion with the apartment hunting process. They will be able to act as a liaison between you and the leasing agency or landlord of the apartment you want which can help serve your interests in securing a Pit Bull-friendly place!
5. Try making a doggie resume.
This may seem silly, but some landlords are so untrusting of the breed that it becomes a necessity for renters. Here are some of the best things to include:
Their real breed
Adorable pictures of them alone, with you, and with others (people and animals)
Positive references from previous neighbors, landlords, veterinarians, etc.
Evidence of any applicable training
Vet records with up-to-date shots and spayed/neutering
Arrangements for dog care while away at work, vacation, extended periods, etc.
6. Housing wanted ads are your friend.
Try looking for referrals from friends, family, and community members by posting you are seeking housing.
7. Obtain renters insurance.
Renters insurance sometimes doesn't cover specific breeds, like Pit Bulls so you'll need to search for coverage that does. This will put a lot of ease in landlords' minds as they will not be liable for your pup. State Farm is a Pit Bull-friendly choice to look into!
8. Arrange a meeting with your pooch and the potential landlord.
Letting your potential landlord meet your dog will let them scope out the situation for themself if they are still hesitant about accepting your application.
9. Don't be afraid to negotiate and stand up for your furry friend.
Offer your landlord positive and helpful solutions to any problems they bring up to you. Meeting their concerns with an air of responsibility will take you a long way! For example, you may offer to pay an additional deposit for your dog when signing your lease.
Most importantly, be patient in the process and have faith that you will find the best place for you and your canine companion to stay! Be patient with selecting and applying to an apartment, especially if you're getting help from others. Your helpers and Pit Bull will be happy for you in the long run.